SPEND LESS, GET MORE
THANKS TO PROMOTIONAL PRODUCTS
Promotional products are the only means of advertising capable of arousing all our senses, and in a world where consumers are bombarded with publicity, promotional products make the difference. Printed adverts, Internet pop-ups, radio spots and TV ads all interrupt and distract consumers. Yet promotional products are always welcomed by consumers and become part of their lifestyle.
You may ask yourself how such an affordable marketing method can prove so effective. The reason is that promotional items are powerful drivers of change and opinion shapers. Wise advertisers seek means of communication with a broad scope, lasting effect and low cost per impression, which is precisely what promotional products offer.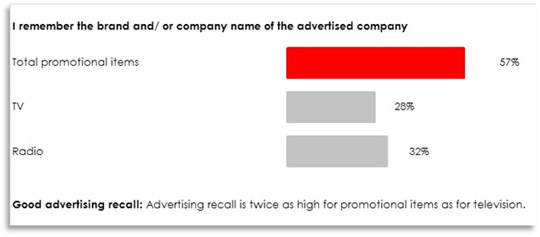 A German study into the "Advertising impact of promotional products/items" showed that the advertising recall of promotional products is two times higher than that of TV ads.
Promotional products afford the advertised company advantages that other methods can not provide. This includes:
High recall of the company that is advertised on the gift product.
Repeated exposure to the publicity message thanks to the durability of promotional items.
A better impression of the advertised company.
Promotional products have a multiplying effect on recommendation rates. The study revealed that 50% of survey respondents believe that the company they receive a promotional product from is more recommendable than others.
The value of promotional products lies in their capacity to send a message to a well defined target audience. Because the products are useful and appreciated by those who receive them, they are kept and reused several times, which means the message printed on them is repeated at no extra cost for the advertiser.
The study showed that more than 70% of the target audience appreciates a promotional gift and will use it on a daily basis. More than 60% of that audience remembers and is grateful to an advertiser who sends them useful gifts. For more information, check out the campaign: www.nothingbringsyoucloser.com
WHY INVEST IN PROMOTIONAL MARKETING?
The key difference compared to media publicity or any other form of advertising is that promotional marketing encourages the receiver to feel "obliged" to say THANK YOU, thus showing a positive predisposition towards the brand or logo shown on the gift.
There are three different types of products:
PROMOTIONAL GIFTS: An item that is strongly bound to the decision to purchase a specific product or service and that is used to encourage the receiver to buy the product it is linked to.
PUBLICITY GIFTS: An item that is used to transmit any publicity message and that reminds the receiver of or introduces them to a given brand or service.
CORPORATE GIFTS: An item that is linked to a company's public relations. The aim is to create a positive predisposition in the receiver towards the giver.
PUBLICITY AND PROMOTIONAL GIFTS – THE MOST PROFITABLE AND LONG-LASTING
INVESTMENT FOR YOUR COMPANY!
REASONS TO INVEST IN MERCHANDISING:
To boost business sales.
To make yourself known.
To remind customers of you and keep your name on their minds.
To uphold or enhance your corporate or brand image.
To offer customers an item of use.
To show your gratitude to specific customers.
To keep up with competitors who offer gifts.
To show appreciation for your suppliers.
To reinforce specific offers, either for customers or suppliers.
To build customer loyalty: as a buying incentive for client companies, either based on orders or annual volume discounts.
Incentives: As a reward for your network of sales staff when targets are reached or exceeded.
As a gift on stands at fairs, events, shows, conferences and conventions.
As a souvenir on anniversaries.
As a token for attendants at shareholder meetings.
As a souvenir when changes take place in a company.