At KMMK Gifts we use all kinds of branding techniques to achieve the best results on any type of product or surface. From pad printing to laser engraving, we cater for all methods with top quality
PAD PRINTING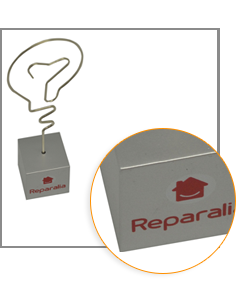 Fast and affordable, this is the most popular decorative method for promotional gifts as it enables multi-colour printing on all shapes and textures, making it easy to print on anything: from pencils to golf balls.
This printing technique consists in transferring ink from a flat surface – known as the cliché or plate – onto another surface which may be flat, concave, convex or a combination of the above, using a pad made of synthetic elastomers that adapts perfectly to irregular shapes. The machine takes care of guiding the pad over the design on the cliché like a rubber stamp, pressing it, lifting it, moving it forward to the item and bringing the ink design down onto the substrate. There is special ink for each type of material to ensure that it adheres to the item perfectly, making it is difficult to remove and durable.
Use/Materials: This is the most common technique for branding non-textile promotional items in small sizes and with irregular shapes as it adapts to almost every shape and surface by means of pads with different textures.
Nevertheless, adhesion cannot be ensured on all metal articles.
Cost: The cost of this technique is low and varies depending on the number of colours.
Maximum printing size: 5 cm
Maximum printing colours: 4

CREEN PRINTING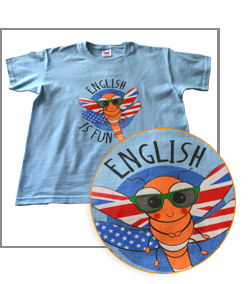 Screen printing or serigraphy produces high quality results and durability for printing one or several colours onto flat surfaces. The ink is applied using mesh stencils to create clear, well-defined images that are perfect for logos and text.
Screen printing works using a spot colour system, which means it cannot reproduce photographs, gradients or shading.
Use/Materials: Textiles (cotton, spandex, polyester…), plastic, acrylic, PVC, aluminium, wood, etc.
Cost: This technique is costly for small batches, and each additional colour raises the price. It proves affordable for large quantities.
Maximum printing surface: 70 x 100 cm
Maximum printing colours: No more than 8 inks on light backgrounds or 6 inks on dark backgrounds
DIGITAL PRINTING
This is a relatively new method that is similar to screen printing but does not require stencils or photolith film. It is carried out by a high definition printer that prints directly onto the item. This allows it to print photographs onto T-shirts, and create gradients and shadowing in incredible quality. Plus, the result is even less noticeable to the touch than classic screen printing.
Our direct digital printing technique enables us to print full-colour, photo-quality images straight onto the end product, which makes for no end of custom options.
Use/Materials: T-shirts, pens, pencils…
Cost: Medium to high printing cost. For tight budgets or large quantities, screen printing is a more recommendable option.
Maximum printing colours: No colour limit
ROUND SCREEN PRINTING
Round screen printing has all of the advantages of screen printing and can be used on curved surfaces. This means we can produce top quality, well-defined designs on 3D objects.
Use/Materials: Plastic, acrylic, PVC, aluminium, wood, etc.
Cost: This technique is costly for small batches, and each additional colour raises the price. It proves affordable for large quantities.
Maximum printing surface: 14 cm diameter
EMBROIDERY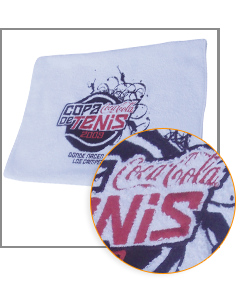 This is the most traditional decoration technique which consists in sewing a design onto the article. It is instantly recognised for its high quality and gives items added value. The colour is chosen according to the thread colours available.
Use/Materials: Embroidery can be applied to flat and irregular surfaces on all kinds of textile and knitted items.
Cost: The expense depends on the number of stitches required and the size of the design.
Maximum branding surface: Unlimited
Maximum branding colours: 15

HEAT TRANSFER PRINTING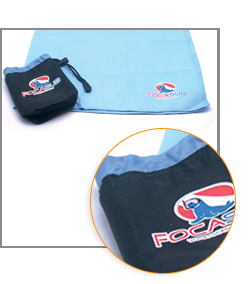 With this technique, the design is transferred from a photosensitive screen onto transfer paper. Once the design is on paper, it can be printed onto the item using a heat press. The process is similar to ordinary transfer printing.
Use/Materials: Suitable for most textile products to be branded in full colour.
Cost: This is a good option for printing multi-colour designs in small batches.
Maximum printing colours: No colour limit
TEXTILE VINYL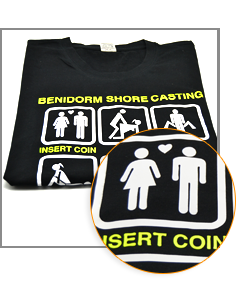 Textile vinyl is a plastic substance in the form of a thermo adhesive film which can be given different finishes according to the desired effect.
The vinyl is adhered to the fabric by beans of a heat press that causes the adhesive inside it to melt. The vinyl is cut out using a plotter and applied to the item at the right temperature and during a specific length of time according to the manufacturer's specifications.
There are a great many types of vinyl available (bright colours, matte, fluorescent, metallic, holographic, speckled, frosted…).
Use/Materials: Suitable for most textiles (cotton, spandex, nylon…).
Cost: This does not require photolith film or stencils, which means that small batches can be produced at very competitive prices.
Maximum printing surface: 70 x 100 cm
Maximum printing colours: No colour limit
LASER ENGRAVING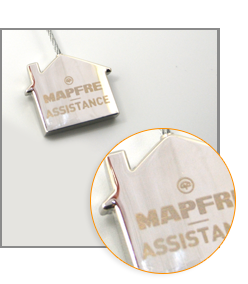 This branding technique carves the design into the chosen item, providing an indelible marking. It consists in burning the design into the item's material. The laser beam is controlled digitally by a computer. The colour of the marking will depend on the colour of the substrate.
The effect is extremely durable and elegant given that the design is engraved onto the surface of the item, which is why laser printing is said to be colourless – it depends on the colour of the material.
Use/Materials: This method is used mainly on items made of a material that cannot be branded using ink. It is most often used on metal, glass, wood and leather.
Cost: A great option for small quantities.
Maximum printing surface: Approximately 8 cm
DOMING OR RESIN ADHESIVE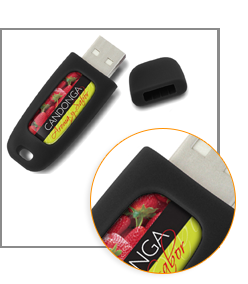 This is a combination of branding techniques: firstly, the design is printed onto a plastic adhesive substrate, to which special transparent resin is then applied. The resin acts as a protective layer ensuring the absolute quality and durability of the design. This combination also produces a nice bubble effect which makes the design stand out and creates a very elegant finish.
Use/Materials: Used on small surfaces given that large sizes prove extremely costly (badges, handbag hooks, keyrings, some USB sticks, stickers and more).
Cost: Good value for money.
Maximum printing surface: Small surfaces
Maximum printing colours: No colour limit
HEAT ENGRAVING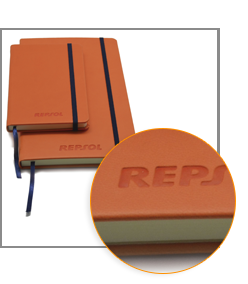 The design is placed on an aluminium press which is heated by a machine and applied to the product using pressure and heat. This technique leaves the design set into the item in low relief with no colour, making for a very elegant finish.
Use/Materials: Most used on leather, faux leather, plastics and wood (diaries, wallets, purses, folders, etc.).

SUBLIMATION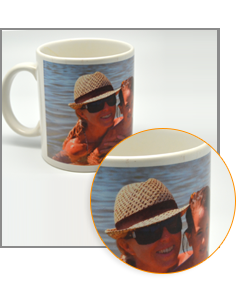 Sublimation involves changing a substance from solid to gas without becoming liquid. When this process is applied to printing text, images and so on, it provides amazing definition, resolution, colour and durability against washing.
The transfer process is achieved by applying approximately 200 °C using a heat press or iron to the transfer image once it has been placed over the surface of the item to be branded. This printing method uses special ink in specific inkjet printers. The heat turns the design from its solid form on paper into gas, which penetrates the surface of the polyester and then reverts back to solid as the surface begins to cool, causing the pores in the polyester to close and retain the newly formed solid.
Use/Materials: This technique can be used to brand textile products such as T-shirts, cushions, caps, etc., provided they contain at least 75% polyester. There is also a great assortment of non-textile products that are suitable for sublimation, such as cups, puzzles, mouse mats, pendants, tiles and dishes, all of which are coated with a layer of clear polyester varnish. The background must be white.
Maximum printing colours: No colour limit.
SCREEN AND VITRIFIABLE TRANSFER PRINTING FOR CERAMICS AND GLASS
The design is made using the flat screen printing technique in order to produce more complex designs in terms of shapes and colours. Once the design is ready, it is applied to the substrate and baked in an oven at high temperatures of 800 °C for ceramics and 600 °C for glass, in order for the special inks to vitrify and adhere to the substrate due to the heat. During the baking process, the pores of the ceramic substrate open and allow the ink to enter. Once the ceramic has cooled, the ink is set into the ceramic and cannot be removed using conventional products.
Quality: The result is an extremely durable decorative finish that is suitable for putting in the microwave and dishwasher, and remains intact over time. With this technique, ceramic items can be branded with all kinds of designs in top quality and, most importantly, the outcome is extremely durable, indelible and capable of withstanding the dishwasher and microwave.
Use/Materials: We can decorate and customise your design or picture on all kinds of ceramic objects such as cups, dishes, ash trays, jugs and more. Thanks to the vitrifiable transfer method, glass objects can also be decorated with the "acid" etching effect.